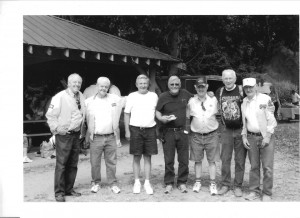 Shown here at our reunion picnic held at Beaver Lake Park in 2011, are original members (from left to right) Ross Rocket, Ken Potts, Gary Rowe, Don Christensen, Bob Parker, Howie Hilton, and Gerry Moss.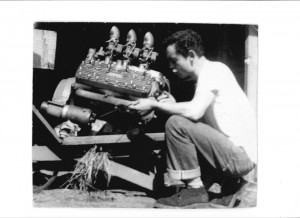 Captured here is original and current member Bob Parker, at age 18, during his first hot rod build. He is studying the dip stick intently, trying to figure out which end goes into the engine block.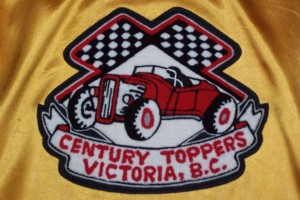 Original club logo.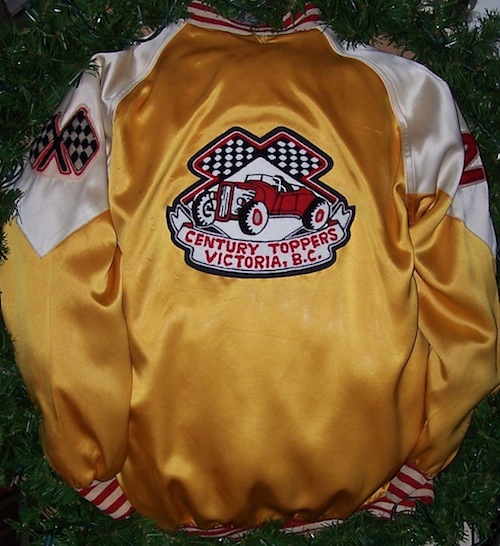 Original club jacket design – due to the colour choice, you knew where our members were at all times.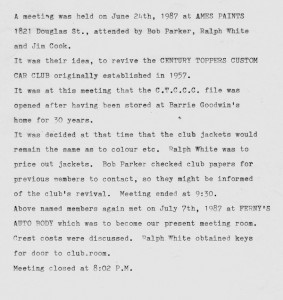 Minutes from the first meeting to resurrect the club back in 1987.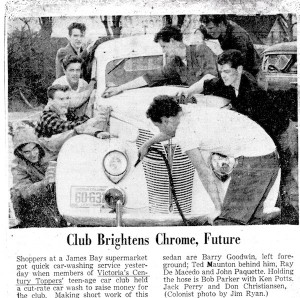 Newspaper article from 1958 – location was the old Safeway store ( now a Thrifty's ) at Menzies & Simcoe Street in James Bay. This 1939 Ford Coupe at the time belonged to Jack Perry. It was already upholstered and chopped and was to go on to become a famous local car called "Bloody Mary" which is still on the road today.

Western Speedway around 1957, this 1934 Ford with '54 Olds power was built in Vancouver by Cal Morrow. It later became "the Orange Crate" owned by Darryl Foster. Bob Parker believes it is now fully fendered, with louvered trunk lid, black in color with green wheels and is still cruising the streets.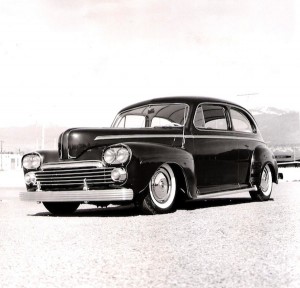 Century Toppers were instrumental in helping the Quarter Milers put together the Centennial Autoramma back in 1958. This 1947 Merc, owned by the late Don Campbell of Vancouver was one of the top trophy winners. It was Olds powered with dual carbs, power windows, doors, hood, and trunk, white and red rolled and pleated upholstery, with Edsel headlights. The color was Candy Apple Red with Caddy hubcaps and chrome lakepipes. Quite a ride in its day.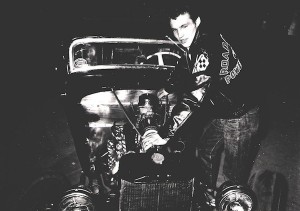 Another Autorama participant from the "Road Warriors" in Powell River. Black leather jacket, duck tail, and a street rod – what a look. Check out the 5" chop, bald tires, aluminum heads, Stromberg carbs, suicide doors, aluminum firewall, and bucket seats. No fenders on this highboy – those were the good old days!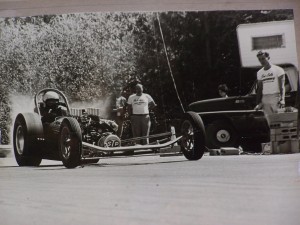 Current member Gary Foster in his hemi powered dragster launches down the strip sometime in the '70's!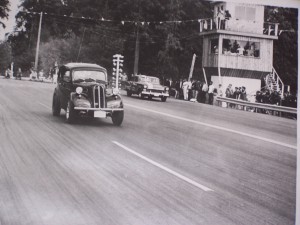 Current member Gary Foster driving his 289 powered Ford Anglia back in the early 70's at Van Isle Dragway in Cobble Hill.